Passport Acceptance Facility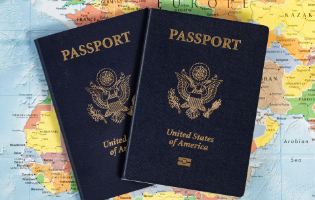 Bedford Central Library is a designated Passport Acceptance Facility. This is the only library branch in the county that accepts passport applications.
We accept passport applications by appointment only during regular library hours. We try to be accommodating in scheduling appointments, but as there are only 2 passport agents, availability can be limited. Evening hours up to 7pm and Saturday hours can be arranged, but the passport agents are not regularly in the building during those times. Call (540) 586-8911 to schedule an appointment.
It is strongly advised that every person applying for a passport review the process beforehand.
What you will need:
Proof of U.S. Citizenship (provide one of the following):

Previous U.S. Passport
An original and a copy of a certified U.S. Birth Certificate (from a city, county or state, NOT a hospital certificate)
Consular Report of Birth Abroad or Certification of Birth
Certificate of Naturalization or Citizenship

Proof of Identity (provide one of the following):

Current, valid Virginia driver's license and a copy of both the front and back (Please bring a secondary ID if you have an out of state license.)
Military ID
Government ID
Certificate of Naturalization or Citizenship

For minors under the age of 16, each child must appear in person and both parents/legal guardians must be present with evidence of identity.
Completed (but not signed) DS-11 form, which can be obtained from Bedford Central Library or printed from the State Department website.
Passport photo

We are able to provide passport photos for your application for a $10 fee.
If you choose to get photos elsewhere, be aware that passport photos must adhere to strict requirements set by the U.S. Department of State. See the U.S. Passports website for more information and examples of acceptable photos.

Fees

U.S. Department of State total must be paid with check or money order only. Cash, credit or debit cards will not be accepted. One check or money order for EACH application is needed.
There is an Execution Fee of $35 per application payable to the Bedford Public Library System. Library Execution Fee may be paid with cash, check, or money order.
View a complete list of current fees charged by the State Department.
Current Processing Times
Processing times are determined by the National Passport Agency and are subject to change. Click here to see current processing times and to determine the best way to apply for a passport based on your travel dates.
WHAT TO KNOW ABOUT COURIER AND EXPEDITOR COMPANIES

There are multiple companies on the internet offering to get your passport quickly, but you will not receive your passport any faster than you would if you applied in person at a passport agency or center.

The State Department has issued information about these companies to protect citizens applying for passports from paying extra fees. Please go to Courier and Expeditor Companies to learn more.
For more information, including current processing times, visit the State Department website.
Virginia birth certificates may be obtained from the Office of Vital Records or the DMV. Visit the CDC website for information about obtaining an original birth certificate from all states.