Mobile Hotspots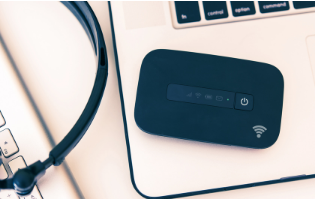 You can check out the internet!
We now have hotspots available for checkout so you can access the internet from home.
Check the coverage area to be sure the hotspot will work for you; there are areas of Bedford County where T-mobile will not work. Overdue hotspots will be disabled.
Eligibility
A hotspot may be checked out to any BPLS library patron 18 years or older with a library account in good standing.
Loan Period & Checkout
Hotspots are available on a first come, first served basis. Holds may be placed on the hotpots. The hotspot must be picked up at and returned to the library's main circulation desk. Only one hotspot may be borrowed by a household at a time. Hotspots circulate for a two week (14 days) loan period. The hotspot may not be renewed.
Each hotspot circulates in a kit with a micro USB cable, an AC charger (plug) with USB port, the Borrowing, Internet Use & Privacy Policies card, the Quick Start Guide card.
Returns
Overdue hotspots will be charged $1.00 per day. Hotspots which reach the long overdue period of 30 days past the return date will be assumed lost and charged the replacement cost of $100. Hotspots are fragile and must be returned to the circulation desk and not placed in the book drop. Patrons will be responsible for any damages to the item caused if the hotspot is returned to the book drop.
Lost or Damaged
The charge for a lost hotspot is $100. The charge for a damaged hotspot will be determined by library management. A lost or damaged cord or charger will be charged $5.00.
Internet Use
BPLS is not responsible for information accessed using this device or for  personal information shared over the Internet.  Hotspot users are encouraged to follow safe Internet practices.
Privacy Policy
Your Internet usage is not tracked by the library or the service provider. The library does not have access to or collect specific usage data. The library does not provide patron information to the service provider. The only data about the hotspot program that the library collects is the:
Total amount of data transmitted and received by each device during a billing cycle
Anonymous circulation data related to checkouts of the hotspot devices
The Internet service provider for the hotspot program does not monitor or track the websites that hotspot users visit or the information that users submit (user names, passwords, credit card information, etc.)